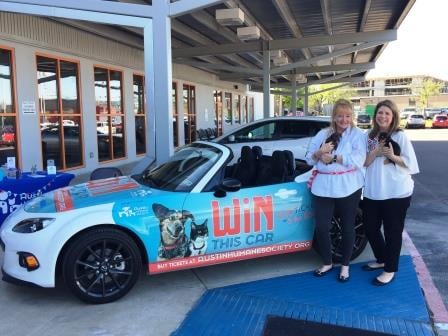 Today was the 11th Annual Austin Humane Society Car Raffle powered by Roger Beasley Mazda. This event is one we hold close to our hearts as ticket sales for the AHS Car Raffle go towards saving the lives of many animals in need. On the day of the big event, a ticket is drawn and the lucky winner will drive home in a new Mazda MX-5 Miata! Roger Beasley Mazda believes in giving back to our community. With the support of many, we are able to do just that and more.
The
AHS
Car Raffle is an event that we look forward to every year, but this year was just a little bit different. Roger Beasley Mazda and Austin Humane Society have partnered together for many years saving the lives of many animals. This year we have raised $1 million since our very first event with the Austin Humane Society. They are an incredible organization, made up of an incredible group of individuals that do nothing short of incredible work for our local animals and community. We could not be any more proud and thankful for their partnership and collaboration over the years.
Roger Beasley Mazda and Austin Humane Society definitely hit a milestone today, but that was not the only thing that made today so special. During the fall of 2014, Roger Beasley Mazda paired Austin Humane Society with Mazda's
Drive for Good
Charity Event. Today, Mazda District Manager, Andrew, along with Jim, Roger Beasley Mazda's Vice President and Managing Partner, handed a check to Austin Humane Society for a total of $32, 720. We want to thank Mazda for their continued efforts through their Drive for Good event; and we also would like to thank the Austin Humane Society for all that they do to serve our local community and saving the lives of many animals in need.
From all of us at Roger Beasley Mazda, we want to thank you for your continued support. Austin, as well as its surrounding areas, has made Roger Beasley Mazda a part of their family; and we could not be any more grateful for their support. Whether our supporters are Roger Beasley Mazda customers or not, they still partner with us and we come together with one unified goal: supporting our community.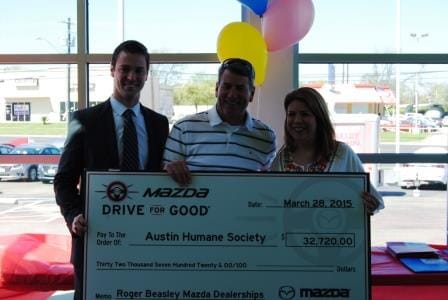 For additional photos from today's event, click
HERE